Recordings
The recordings below may be purchased online and will be mailed to you. Or, you may also order a recording by sending us an email indicating the following:
Name, Address, City, State, ZIP, Number of CDs desired
After we have determined availability of your order, we will send a return email with your total. Please make your check to Arrowhead Chorale and mail it to:
Arrowhead Chorale
506 W. Michigan St.
Duluth, MN 55802
Your CD will then be mailed to you.
Or, you may call us at (218) 733-7521. If you do not receive an answer, please leave your name and phone number and we will call you back for your order!
Part One
Sinfony "Overture" (3:49)
And the glory of the Lord (3:11)
And He shall purify (2:35)
O Thou That tellest good tidings to Zion (1:48)
For unto us a Child is born (4:14)
Pifa "Pastoral Symphony" (3:14)
Glory to God (1:54)
Part Two
His yoke is easy and His burden is light (2:16)
He trusted in God that He would deliver (2:32)
Lift up your heads (3:10)
Let all the angels of God worship Him (1:31)
The Lord gave the word (1:05)
Their sound is gone out into all the lands (1:27)
Let us break their bonds asunder (1:54)
Hallelujah (3:44)
Part Three
Since by man came death (1:55)
But thanks be to God (2:17)
Worthy is the Lamb, Amen (6:08)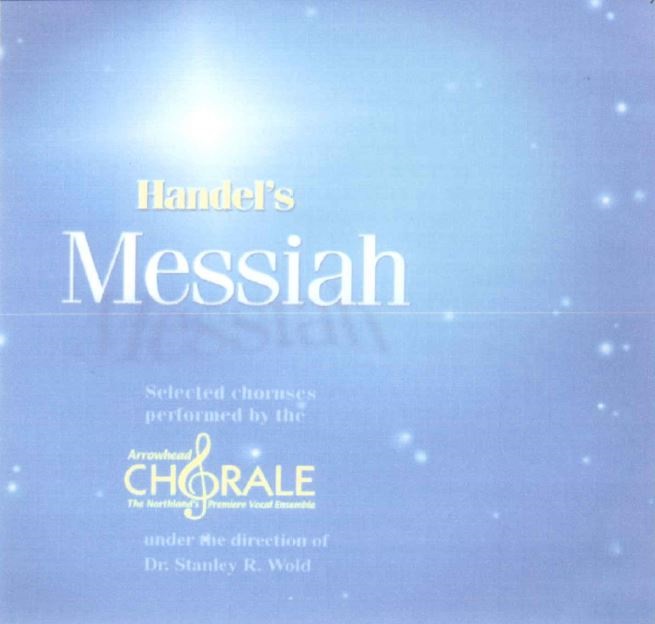 The Feast of Christmas (12:06)
Ding Dong! Merrily on High (1:43)
Venez mes enfants (2:08)
What Shall We Give? (1:55)
Wexford Carol (3:50)
Infant Holy, Infant Lowly (1:47)
Jingle Bells (1:54)
Lullay, Thou Little Tiny Child (4:22)
A New Year's Carol (1:50)
Silent Night (3:55)
Twelve Days of Christmas (4:01)
Hymn to the Virgin (2:25)
Gloria Tibi (1:54)
Ave Maria (5:32)
A Musicological Journey Through the Twelve Days of Christmas (8:58)
Christmas Lullaby (3:26)
How Still He Rests (2:52)
What Sweeter Music (2:43)